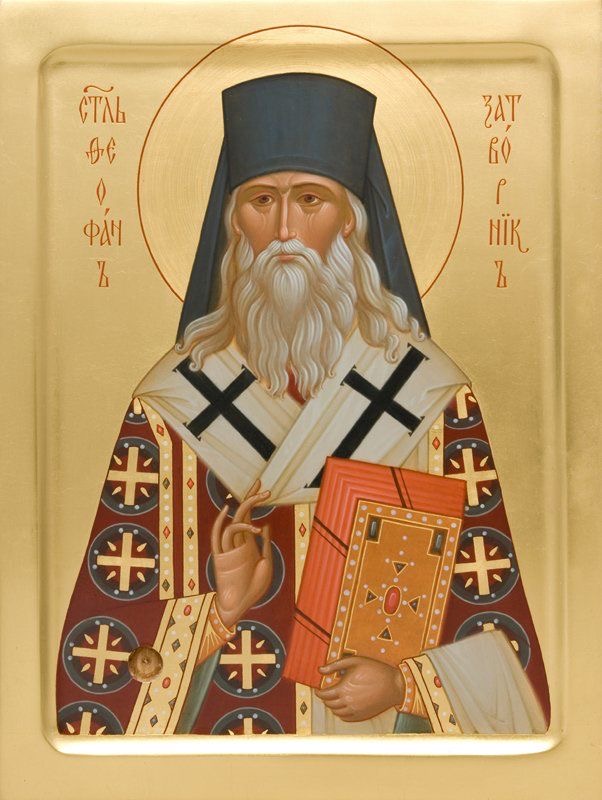 The simplicity and the clarity of St. Theophan's thought often keeps us perhaps from seeing the holy genius and the beauty that is expressed in these letters. This was particularly evident tonight as we concluded letter 49 and began letter 50. St. Theophan begins by talking to Anastasia about a particular infirmity that we all struggle with as human beings - worry. Anxiety is a disease that is rooted in our separation from God. We experience within our very depths a kind of disintegration; sometimes a very specific form of anxiety and sometimes a very diffuse kind of uneasiness about life, love, and work. Theophan's simple advice is that she should not to let it take root in her heart. She must engage in her work with enthusiasm and clarity and her focus must be upon God and remembrance of him. 
In letter 50 he returns to this very subject with Anastasia. The remembrance of God is necessary. Indeed, it is to be the labor of our life. If we do not achieve it we will come to nothing. We will have no success in the spiritual life and in fact we will have no spiritual life at all. The remembrance of God is the very essence of the spiritual life. It is vitally important!  In this sense he tells her that the remembrance of God cannot even be treated as ordinary thought. Every concept of God, every attribute of God, everything that he has revealed of himself to us, all of his redemptive work is to be caught up in and permeate our remembrance of him. It is this that energizes the heart and the spirit. Furthermore she must remember the mercies of God and thank Him for them. All the good things that God has given her - her family, her piety, her recent conversion and desire for God - all of these things she must hold in her mind. Above all she must remember all of the secret mercies the God has shown her, all the many ways that he has protected her in unseen and hidden ways.
Love ignites love he tells her. She must hold to her heart the knowledge of God's love for her at every single moment. This must be the source of her resolve. Soon the flame of that love will burn so hotly that she will not have to labor to pray or to remember God - her heart will take her there with the urgent longings.
----
Text of chat during the group:
00:34:16 Lilly Crystal: I am totally anxious if I don't have a daily prayer routine! "Those who are well have no need of a physician, but those who are sick. I came not to call the righteous, but sinners."
Mark 2:17
00:37:57 Eric Ash: The psalms weren't written by someone who was a stranger to anxiety and feelings of hopelessness.
00:42:29 Lilly Crystal: "Cast all your anxiety on Him because He cares for you"
Peter 5:7
00:45:47 Eric Williams: Scientist solidarity, Erick. Balancing intellect and faith is very challenging.
00:46:04 Erick Chastain: yeah for sure
00:47:37 Eric Ash: Must be an Eric/k thing
00:48:29 Eric Williams: Yeah, we're a bunch of troublemakers. ;)
00:48:52 Erick Chastain: LOL
01:03:25 Eric Williams: Already sent it to my oldest godchild. :)
01:10:59 Art: No mind
01:24:35 Lilly Crystal: Thank you Father. God bless
01:24:38 Nicole's iPhone: Thank you!
01:26:51 Lilly Crystal: I would come all the way from Canada 🙂
01:26:56 Nicole's iPhone: Love the idea of conferences!
01:28:26 Lilly Crystal: 'philokalia familia' 😂
01:30:53 Erick Chastain: Dr jean-claude larchet "Therapy of Spiritual Illnesses"
01:31:08 Wayne Mackenzie: thanks