Wednesday Jan 22, 2014
Ladder of Divine Ascent - Step 29 On Dispassion Part II and Step 30 on Love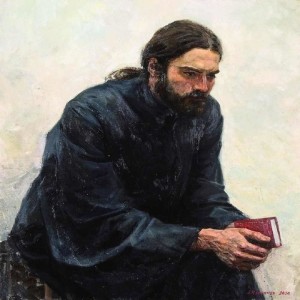 Dispassion:
St. John's words in this chapter are a wake-up call. They remind us of how far we are from spiritual perfection. They humble us. They motivate us. They set the goal before us. The goal is high: dispassion leading to illumination. The height of the goal reaffirms the necessity of struggle. Nothing in this life comes easily. The more important it is, the more work it requires. Thus, in our spiritual lives, when we are tempted to despair, to quit, to accept second best, to abandon the struggle, we must remind ourselves of just how wonderful the prize is. St. John says: "Think of dispassion as a kind of celestial palace, a palace of the king of heaven." This is where we must want to dwell. A small hut may be easier to attain, but it is not where those zealous for God and wish to be near him want to live. They have their eyes set on something more. "Blessed dispassion raises the poor mind from the earth to heaven, raises the beggar from the dunghill of passion. And love, all praise to it, makes him sit with princes, that is with holy angels, and with the princes of God's people." 
Love:
 
As we remarked in the very beginning of our study, the Ladder of Divine Ascent is a way to union with God. This is the goal of the spiritual life: direct, unhindered and undistracted communion with the Holy Trinity. Everything that St. John has outlined, the negative and the positive, has been presented with this goal in mind: to prepare ourselves to know God and, in knowing God, to experience Eternal Life. What is the highest pinnacle of the knowledge of God? When is our labor no longer preparation for, but actual enjoyment of the presence of God? St. John answers: "when we love." He writes: "Love, by its nature, is a resemblance to God, insofar as this is humanly possible. In its activity it is inebriation of the soul." In another paragraph he explains: "Not even a mother clings to her nursing child as a son of love clings to the Lord at all times." In still another place, he writes: "Love grants prophecy, miracles. It is an abyss of illumination, a fountain of fire, bubbling up to inflame the thirsty soul. It is the condition of angels, and the progress of eternity." It is truly significant that St. John isolates love as the highest expression of spirituality. For those of us who have grown up in the West, we have tended to associate great spiritual progress with either intellectual achievement or social action. Neither of these is antithetical to the spiritual life, but neither represents its highest attainment either. The person who truly knows God is love even as God is love.

This too is an important consideration. We all from time to time love. Love is something we do and something we give. At best, love is an "attribute" which is part of our inner selves. In this respect, for us, love is most often "premeditated." We think and plan to love. This is the beginning of the spiritual life. Those fully deified do not "love" as an expression of forethought or will, but they themselves have become love. Here is where true union with God takes place. To know the heart of God is to know love. "Love" is not an attribute of God, which takes its place among the other "attributes" of God. Love is God and God is love. Everything He does, even His punishment and wrath against sin, is an expression of His love.

To love is to be obsessed by and with the thing or person which is loved. The deified ones are completely overtaken by desire for God Himself. St. John explains: "Someone truly in love keeps before his mind's eye the face of the beloved and embraces it there tenderly. Even during sleep the longing continues unappeased and he murmurs to his beloved."

This kind of consuming and exhilarating love for God is a gift, a grace, which comes from Him. This is the mystical side of the spiritual life. We can prepare ourselves to receive God's love; this is the ascetical side. But true love comes from God and draws us back to God. Having ascended the Ladder through the practice of the virtues, at its pinnacle, we encounter the Eternal Mystery, we are drawn into that Light which is also Darkness and that Darkness which is also Light and we learn the meaning of the parable: "We love because He first loved us." We encounter Someone bigger, more powerful and more real than all of our feeble attempts to understand Him. We find the End of our search, and in experiencing Him, realize the End to be simply the Beginning.