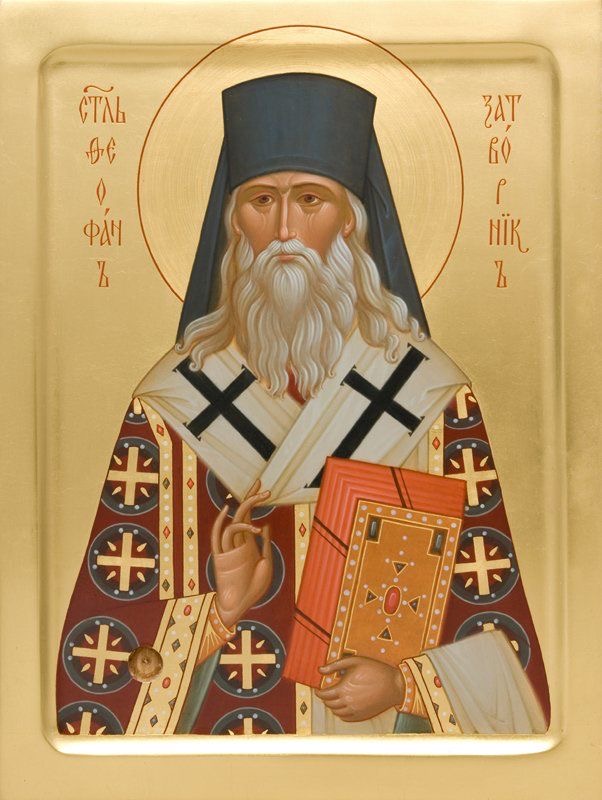 Tonight we picked up with Letter 48. St. Theophan begins to instruct Anastasia about how to attain Undistracted Prayer. One of the most difficult labors in the spiritual life is to settle one's thoughts. As we seek to take every thought captive and make it obedient to Christ we are confronted with the multiplicity of our thoughts and their unruliness. Theophan tells Anastasia that she must have firm resolve and hold on to her anxiety about this and intensify her efforts in correcting the fault of allowing her mind to wander. To pacify one's thoughts is a gift of God but nonetheless we must labor with our whole being. We must force ourselves in every good thing but especially in prayer. Theophan is very stark in his language. He does not hesitate to tell Anastasia that prayer is the most important thing in our life as human beings. In fact our whole being must become Prayer; we must be directed toward God in all that we do say and especially in how we pray. Therefore we cannot enter into prayer as a by-the-way activity or in a haphazard fashion. To do so, Theophan tells Anastasia, is a criminal offense. This language seems harsh but what he's trying to communicate to her is that prayer is fundamentally an act of justice toward God, giving Him what is His do. We have been created for Him and to share in the fullness of eternal life. There is nothing more important in this world than to live for God.
----
Text of chat during the group
00:37:24 Eric Williams: Sometimes maintaining a prayer rule feels more like a sysyphean task than herculean. ;)

00:39:28 Sheila Applegate: Add Cerbwrys

00:39:35 Sheila Applegate: Adce

00:39:57 Sheila Applegate: Cereberus spitting fire from the base.

00:40:24 Sheila Applegate: My phone is glitchy, sorry.

00:42:15 Miron: metropolitan

00:47:38 Mark Cummings: It is my dream to live next door to church

00:48:10 Eric Williams: Often it's not just a matter of how close a church is, but more whether/when it's open for prayer. :(

00:49:11 Wayne Mackenzie: There was a time when the churches were open all day

00:50:56 Mark Cummings: Not long ago I could go to adoration any time 24/7

00:51:02 Mark Cummings: pre-covid

00:51:15 Mark Cummings: I miss that

00:51:41 Wayne Mackenzie: I am talking about the 60s

00:52:26 Mark Cummings: lol- it is not often that I get to say that was before my time

00:53:07 Wayne Mackenzie: yes I am giving my age away

00:58:15 Eric Williams: "Grasp" is an interesting choice of word. The origin of the modern "comprehend", meaning "understand", is from Latin for "grasp". It's as though we wrap our minds around an idea, enveloping and seizing it. It's very material, "earthy".

01:13:45 Eric Williams: Isn't hyperbole a prominent part of ancient rabbinic teaching styles?

01:28:06 Nicole: Thank you!

01:28:12 Scott: What if we end with the Sienfeld bass instead?  More positive!

01:28:59 Eric Williams: Instead of the Law and Order "bong", just say "Pray, criminal!" for an appropriate level of jarring. ;)