Monday Jun 01, 2020
Letters of Spiritual Direction to a Young Soul - Letter Fourteen Part II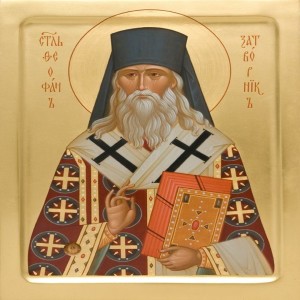 Tonight we concluded letter 14. What a beautiful experience and privileged experience to share in the intimate correspondence between a saint and a young woman who desires to be a saint.  St. Theophan opens up for her the reality of life in God, what it means to be transformed from glory to glory. 
Tonight he began to speak with her about the primacy of conscience, the incorruptible judge that God has given to us, the divine voice in the human spirit. There is nothing more beautiful than a soul with a pure conscience; and nothing will bear witness to the light of God's glory as one who has been wholly transformed by his grace. It is this reality, this purity of conscience, that we should seek above all. It reveals what we are in fact. The angels and saints see the state of our soul and our guardian angel, in particular, comes to our aid and intercedes on our behalf. The demons are scorched and repulsed by the brightness of the soul with a pure conscience. Whereas one who has neglected the conscience becomes the focus of their attack.
The pure of conscience magnify the glory of God within the world. And so that should be the center of our concern, our energy and attention. It is this that we must be zealous about - not externals. "Examine what lies within!", Theophan tells her. You must make a decision. Decide just how you're going to live your life.
Chat conversation during the group:
00:33:57 Fr. John (Ivan) Chirovsky: How to from and orthodox conscience
00:34:18 Fr. John (Ivan) Chirovsky: by fr Alexey young is available at
00:34:25 Fr. John (Ivan) Chirovsky: http://www.pravmir.com/how-to-form-an-orthodox-conscience/#ixzz3e6KPm2PA
00:35:11 Fr. John (Ivan) Chirovsky: sorry, it's "how to form an orthodox conscience"
00:41:05 Wayne Mackenzie: the more we become closer to God the more we see our own sins. Its like opening up a darkened room and we open the curtains we see the dust in the air.
00:43:40 carolnypaver: I found a prayer that said if we saw ourselves as we are seen by God, we'd die of fright.
00:44:27 Wayne Mackenzie: yes if we compare ourselves to God
00:46:34 Joe and Larissa Tristano: St. Sophrony ~ bear a little shame
00:54:41 Fr. John (Ivan) Chirovsky: We observe saints as very bright or holy because we are comparing them to ourselves, while the saints see themselves as still in darkness or in sin because they are comparing themselves to God, as they rise towards Him. This an interplay of three stages of spiritual growth: illumination and purgation as we grow in theosis/ deification which is our union with God. Along similar lines is the Eastern understanding of purgatory, for which you can read more at: https://www.royaldoors.net/2013/05/purgatory-and-the-christian-east/
01:09:45 Eric Williams: "The Eucharist is a fire that inflames us, that like lions breathing fire, we may retire from the altar being made terrible to the devil." -St. John Chrysostom
01:16:15 carolediclaudio: I think babushka is old woman :)
01:16:28 Fr. John (Ivan) Chirovsky: Regarding St Sophrony - bear a little shame. When we feel shame (noun) it is supposed to carry us over to guilt, to repentance and then to God. In the scriptures and in eastern liturgical texts, "to shame" as in a verb meaning to disgrace or dishonor someone is usually an abuse directed at us by and from the evil one, whereas "guilt" as a feeling which we feel when we do or say or think something wrong is meant to be a blessing from God. If this distinction intrigues anyone, feel free to check out my youtube channel where I tried to show how this can be. I think it was part two: https://www.youtube.com/watch?v=yh8iWZBksTY&t=9s
01:18:00 Eric Williams: Babushka or baboushka or babooshka (from Russian: ба́бушка, IPA: [ˈbabʊʂkə], meaning "grandmother" or "elderly woman") :P
01:18:34 Fr. John (Ivan) Chirovsky: babushka is affectionate term for elderly married woman because they were the ones who wore the scarf on their hair, which was also worn by young married women.
01:18:40 carolnypaver: Russian/Polish/Ukraine term," studda bubba", which means "old woman
01:19:17 Joe and Larissa Tristano: Matushka is priests wife