Thursday Jan 27, 2022
Letters of Spiritual Direction to a Young Soul - Letter Seventy-Five, Part I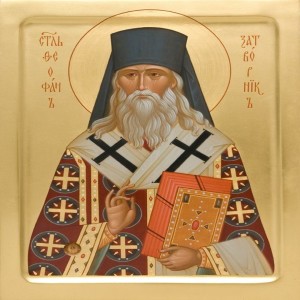 We began this evening with letter 75 entitled "The tricks of the enemy." Anastasia has fallen into sadness inexplicably. Her heart is overcome with heaviness and darkness. Theophan, therefore, wants her to understand exactly what is going on: she is engaged in spiritual warfare and these are the attacks of the enemy. 
However, he exhorts her, "the power of the cross is with us! Take heart and stand fast."She need not fear the enemy that is attacking her and approaching her from every side, creating such a disturbance that her world seems to be turned upside down. She must simply cope as well as she can and be long-suffering in the battle knowing that it will pass. She need only "not consent" to anything that is not necessary. Similar to Job, Anastasia must thank the Lord both for the times that are peaceful as well as the times of difficulty. She must simply throw herself before the Lord with her whole being as well as call upon the Mother of God to intercede on her behalf. 
Theophan does not deny that she is suffering attack. However, he wants her to be like a soldier; steeling herself against the enemy's attacks, unwilling to change her intention or decision one iota. She must struggle and renounce his suggestions and curse them. The more that the evil one murmurs in her ears the more she must call out to Christ and simply express her belief even when all seems shrouded in darkness. She must state clearly "I do not want any of this, anything the enemy suggest." Rather, he tells her, she must want one thing; to "speak solemnly before the Lord in her heart."  Fight the good fight of faith even when you find yourself thrown down and seemingly overcome.
---
Text of chat during the group: 
00:22:47 Lyle: Do NOT consent!  Each of us KNOWS, yes KNOWS, where we are spiritually weak.  If you can not do anything else, pray - "Lord, Jesus Christ, have mercy on me a sinner!  Cleanse my thoughts!  Cleanse my heart!  MAKE my thoughts, YOUR thoughts!"
00:23:20 Edward Kleinguetl: Amen!
00:33:51 Lyle: Even the Archangels do NOT battle the demons directly.  Michael on behalf of God Almighty, as a representative of His kingdom said "The Lord rebuke thee."
00:40:12 Lyle: Deuteronomy 31:6.  Be strong AND courageous. Do not be afraid or terrified because of them (distractions, demons, etc.) , for the LORD your God goes WITH you; he will NEVER leave you nor forsake you."
00:49:52 renwitter: "The Asceticism of Joy"
00:55:05 Rafael Patrignani: we know and live the perfection of love in the trials. are we with God or not?
00:57:00 Sharon: Reading and praying over "Trustful Surrender to Divine Providence, the secret of peace and happiness" has helped  me, Anthony.
00:57:13 Lyle: John 14:27.  Our Lord, HIMSELF said, "Peace I leave with you, MY peace I give unto you: not as the world giveth, give I unto you. Let NOT your heart be troubled, neither let it be afraid."
01:17:45 Cathy: Very well said Erick
01:22:38 Miron Kerul Kmec: Thank you Father