Thursday Dec 09, 2021
Letters of Spiritual Direction to a Young Soul - Letter Seventy-One, Part II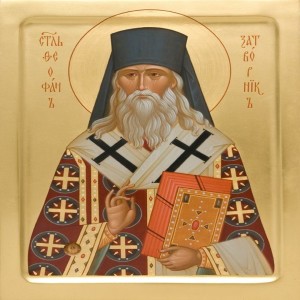 Tonight we continued with Letter 71 to Anastasia on "Coldness in Prayer".  St. Theophan is very direct with Anastasia about the causes of this coldness. Typically, it is because we are carrying out our prayer rule hurriedly and haphazardly. Therefore, he tells Anastasia that she must never carry out any spiritual activity as if it were perfectly established, especially prayer. She must to go about her prayer as if she is doing it for the first time; with the zeal of someone who has come to see the beauty of what God has given them. In fact, Theophan tells her that nothing offends God more than praying hurriedly. It is His gift of love and intimacy and if she treats it lightly, he tells her, she should scold herself for such carelessness. Prayer always will bear fruit within our lives. However, we cannot approach it in a utilitarian fashion, simply to accomplish a task. It is God's greatest gift to us and so we must approach any discipline surrounding it with devotion and love. Even if we create a prayer rule for ourselves, we must understand that it is God who calls us to prayer and it is God who gives it shape and perfects the gift through his own Spirit of Love. When we begin to see prayer in this way, we will long for it and eventually we will find our greatest delight in it.
---
00:28:54 Ann Grimak: I am very agree with you Father
00:30:34 Lyle: P. 277:  "Acquire prayer from the beginning again, and ask for it from the Lord yourself."  [Jhn 14:RSV] 13 Whatever you ask in my name, I will do it, that the Father may be glori-fied in the Son; 14 if you ask anything in my name, I will do it.
Entreat our Lord to help us.  He will "do it", that the Father may be glorified.
00:42:49 Lyle: Thank you, for such valuable COUNSEL.
00:45:45 George: I've noticed that the parishes with the most confession hours have lines for yards on Sunday
00:47:38 Carol Nypaver: That is true.  It encourages parishioners to properly prepare for Holy Communion.
00:50:19 Edward Kleinguetl: A number of the Eastern Fathers see Eucharist being an essential part of repentance. Confession removes the worms from the wounds and Eucharist is the healing ointment.  They also see it as strengthening us for keeping our commitment to avoid the occasions of sin.
00:50:57 Carol Nypaver: So true.
00:51:15 Anthony: Our economics (in our case, Capitalism) begins in materialism with a deist god (invisible hand) and treats us as commodities (human resources) for large national or international entities (GDPs, our corporate bosses).  But this is inhuman.  It goes against our created nature.  We have to be the men and women we were created and "recreated" to be.
00:54:36 Lyle: I am not a Catholic and I have wrestled with what is really "essential" in my life.  Thank you, Deacon Ed.
00:55:42 Rachel Pineda: This can be the whole Christian life. From communion to communion...
00:56:21 Edward Kleinguetl: Spot on, Ren!
00:56:47 Rachel Pineda: LOL
00:56:49 Rachel Pineda: LOL
00:56:52 Edward Kleinguetl: TMI
00:57:19 Rachel Pineda: It's okay Ren, good points btw.
00:59:39 Edward Kleinguetl: We need to desire God above all else.  Doubts are all demons that want to pull us away from God.
01:00:34 Edward Kleinguetl: And there will be times when prayer is a struggle -- we are tested relative our fidelity.
01:00:49 Edward Kleinguetl: *relative to our fidelity
01:00:56 Lyle: Amen, Deacon Ed.
01:06:07 renwitter: We need to install a quiet little bell system in the chapel to facilitate this kind of prayer.
01:07:37 Lyle: "An Instantaneous prayer life is impossible. Prayer does not come about as you expect—by just wishing for it, and, suddenly, there it is. This does not happen." - St. Theophan the Recluse
01:10:56 Edward Kleinguetl: There will be times where we are distracted, sometimes badly.  The demons want to pull us out of the prayer. The key, at least to me, is to persist and refuse to give in to the temptation to stop praying because it is not going well.  God does not expect perfection in prayer -- St. Paul told us it was impossible. Rather, God wants us to know that we are faithful to him, desiring him above all else.
01:11:33 Edward Kleinguetl: Plus, the Jesus Prayer itself is meant is an aid to create stillness
01:13:16 Rachel Pineda: God bless everyone. Going I to Mass. Happy and Blessed feast!
01:17:26 Lyle: I think I understand.  When I DESIRE Him above all else, everything else should/will "fall nto place".
01:18:51 Anthony: Thanks everyone!
01:19:17 maureencunningham: Blessing