Thursday Jan 06, 2022
Letters of Spiritual Direction to a Young Soul - Letter Seventy-Two, Part II and Letter Seventy-Three, Part I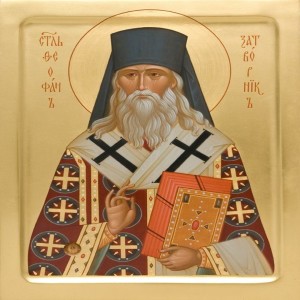 This evening we picked up with the letter 72 where is Saint Theophan begins to engage Anastasia about the decision that she has made to become a religious. More than ever it is necessary to become closer to God, he tells her. She must fix her mind on the remembrance of God in every circumstance. Likewise she is to hold onto the remembrance of death in order that she might lose fear of everything within this world and also to order everything to its ultimate end and the final judgment. In other words, she must work harder than ever to clarify her vision and her desire. She must set about her life a little more decisively and await the fulfillment of her calling with patience. 
In Letter 73, Theophan begins to focus with Anastasia upon what is at the heart of this vocation: chastity or consecrated virginity to be more specific in her case. God has called her to Himself with a kind of jealous love, desiring that she give herself over to him in mind and body. Although never having set out to lead her upon such a path,  Theophan is overjoyed for her and gives thanks to God for the calling. The decision has been made but she is so far from the actual deed. Therefore, she must not fall into naïveté but rather realize that the enemy will seek to beguile her through his subtlety. She must remain sober and awake, vigilant and prayerful. The enemy can attack at any moment. She has been especially blessed by God to walk along this path that has existed from apostolic times; and so she must seek to treat it as the most precious of gifts.
---
Text of chat during the group:
00:29:47 Carol Nypaver: For how long was she under the spiritual direction of St. Theophan?
00:32:13 Lyle: And it is never, never, NEVER too late to desire that CHANGE.
00:35:01 Lyle: In spite of those "barriers", God's Spirit has led and WILL lead "seekers" to Him.
00:38:22 Mitchell Hunt: Every Apprentice needs a Master/Masters to learn from
00:48:04 Mark Cummings: I believe it will be a worthwhile exercise to review the Letters again and write down the things that will help me to map out the way to a deeper relationship with Jesus. Off the top of my head, simplifying, asceticism, memorizing key scripture/psalms, mortification, prayer (prayer rule, the Jesus prayer,etc), guarding against sin and avoiding the near occasion of sin by avoiding spending time with those that may contribute to my corruption., recognizing and embracing the Grace of God, the list seems to go on and on. If someone has already gone through the exercise of creating this map of the Letters then please let me know if you will share it.
01:17:39 Anthony: In Dante's Paradiso, the soul is drawn upward to God by the gravity of love.
01:19:34 Ashley Kaschl: A book that gives greater clarity on the charism of celibacy and speaks more on virginity is "And You are Christ's" by Thomas Dubay, if anyone wanted to dive a little deeper into that topic.
01:22:35 Mark Cummings: Saint JP IIs Five loves,  according to Jason Evert's book Saint John Paul the Great: His Five Loves, includes Human Love and does a great job of providing a synopsis of Theology of the Body and puts it in to the context of loving God by loving others.
01:27:49 Mark Cummings: Thank you, Father!
01:28:04 Eric Williams: Have a blessed Theophany tomorrow!
01:28:09 Rachel: Thank you Father, and thank you everyone. Great questuons!
01:28:24 Ann Grimak: Thank you 🙏
01:28:25 Rachel: Blessed Theophany!
01:28:40 Erick Chastain: blessed theophany and a happy epiphany to all of you