Thursday Nov 11, 2021
Letters of Spiritual Direction to a Young Soul - Letter Sixty-Eight, Part II and Letter Sixty-Nine, Part I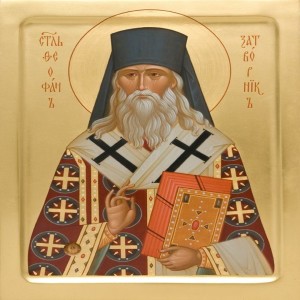 Tonight we began by reading the last few paragraphs of Letter 68 to Anastasia. Here Saint Theophan tells her that she is to avoid secretiveness in the spiritual life. While privacy is certainly to be valued, in the spiritual life the revelation of one's thoughts to one's Confessor or Spiritual Director becomes essential. The evil one through illusory qualities leads us into deception and confuses our affairs. He watches and examines all that we think and do and, at times, even seeks to use suggestions that are good to disguise his provocations. Theophan tells Anastasia that reason alone will ultimately fail her and the evil one will seek to insert his own advice to muddy the waters and to lead her down a path that is not from God. Mistakes, he tells her, will surely come; but they will also show her how to act correctly the next time. 
Moving forward to Letter 69, we find Theophan addressing a ubiquitous reality for us as human beings; the struggle with depression and fear. Surprised that Anastasia is experiencing such things, Theophan asks her to examine her life. Is she living close to God, is she seeking to please him in every way?  It is in doing so that she will root herself in enduring peace. 
He goes on to discuss some of the causes of depression. Amusements, while they may be a gift from God and innocent can be destructive if they are not embraced in moderation. Furthermore, if they are too pleasant they will be unable to content the heart or we will be tempted to seek fulfillment within them. We must be very clear about the goal of life that we have chosen for ourselves and that it always remains in force. God is asking for our hearts and the heart desires God. We are made for Him and can only find true peace by living within Him. Without God our hearts are never satisfied; they are always bored and so we must examine ourselves from this aspect. When we do so, perhaps then we will find the door to peace.
---
Text of chat during the group:
00:31:55 Anthony: "Let us entrust ourselves and one another and our whole lives to Christ our God." "To You O Lord." ~Liturgy of St John Chrysostom
00:37:45 Rachel: I love how he doesn't seem to spell it out for her...he proposes a question, for her to ponder.
00:49:17 Ashley Kaschl: This is especially why we shouldn't flirt to convert 😂
00:50:20 renwitter: Is that advice from experience, Ashley? 😉😂
00:51:38 Ashley Kaschl: Second hand 😂 I ain't got time for that
00:53:47 Lilly (Toronto, CA): Lol Ashley. Same girl, same. God totally fills that void. :)
00:57:09 renwitter: The flirting void? 🧐 Hey! He's never flirted with me 😉. Or are you flirting with Him? Batting your eyelashes at Him in Adoration, eh?
00:57:34 Lilly (Toronto, CA): Lol Ren.
00:58:40 Wayne Mackenzie: no sense of sacrice
01:00:29 Joseph Muir: A lot of younger people come from such broken family backgrounds that they don't know what a healthy relationship is or what it should look like, and thus don't know how to pursue or maintain a healthy relationship.
I'm not making excuses, per se, as some of it does stem from narcissism and/or bankrupt worldviews; but, many are truly aching for love in an authentic sense, yet haven't a clue as to how seek it out
01:00:39 Lilly (Toronto, CA): Totes jealous of all that time you spend with Him at Adoration ;)
01:04:36 Anthony: I've studies the Stoics and am studying their predecessors, the Cynics.  The Fathers, in their humility, in their cosmology, are definitely not either; they do incorporate some sense of virtue and of being the fool, but they purify those themes.
01:05:13 Lilly (Toronto, CA): 100% agree with you Joseph. Next generation is even more broken, being taught such sad ideas of what love is
01:06:54 Lilly (Toronto, CA): Thankful for Everyone's prayers, by the way. Blessed to be back. :)
01:08:20 Wayne Mackenzie: Well their sense of love is not grounded in anything.
01:11:44 Wayne Mackenzie: Further to Joseph's comments...want the pleasure without responsibility
01:17:01 Lilly (Toronto, CA): Wayne…exactly :(
01:18:33 iPhone: ideally, we would have the log removed from our eye before we enter marriage.
01:19:10 Joseph Muir: While I don't entirely disagree, in regards to being empathetic, with divorce rates being firmly north of 50%, with many people being divorced multiple times, how can children from these parents learn or know what an authentic, healthy relationship is?
Again, I don't say any of this to excuse things that are outright wrong, and there certainly are promiscuous people who "want the pleasure without responsibility" (I was once one of these people)
01:20:31 iPhone: truly understanding it as a blessed sacrament and living that way is beautiful but the sacramental truth has been lost on most.
01:20:41 Amber Hackiewicz: Glory to God for All Things is a wonderful akathist written by a priest when in a prison camp. It is a wonderful meditation to do and a wonderful thing to pray to put ourselves back into perspective to where we fit in the world. It brings humility back to the soul in a prideful world.
01:21:57 renwitter: "Bless you prison, bless you for being in my life. For there, lying upon the rotting prison straw, I came to realize that the object of life is not prosperity as we are made to believe, but the maturity of the human soul."
01:22:07 renwitter: - Solzhenitsyn
01:22:58 iPhone: beautiful - thank you
01:23:38 Lyle: Thanks to the Canadians (at least 30,000) who volunteered to serve in the American armed forces during the Vietnam war. At least 134 Canadians died or were reported missing in Vietnam.  
Don't forget to "Hug" a Marine today – their 246st Birthday.
01:23:40 Ann Grimak: Thank you so much Father
01:23:49 Amber Hackiewicz: Thank you Father!
01:24:27 Lilly (Toronto, CA): Thanks Lyle. Happy Remembrance Day!
01:25:03 Anthony: An Italo-Greek!
01:25:06 Rachel: I don't really want to talk about depression and anxiety though... 😄
01:25:18 Rachel: Thank you!! God bless :)
01:25:43 Eric Williams: Now we just need Fr David to make the Pittsburgh Oratory bi-ritual .:)
01:26:22 Amber Hackiewicz: As an (almost) Greek Catholic, this makes me happy (:
01:26:29 Rachel: Our Greek Melkite priest here is from Italo Greek heritage.. such an intense and wonderful personality.
01:26:58 Rachel: My kids are scandalized by the group wondering why I didn't get my turn if you all are still talking lol
01:27:01 George: Thanks Father.