Thursday Nov 18, 2021
Letters of Spiritual Direction to a Young Soul - Letter Sixty-Nine, Part II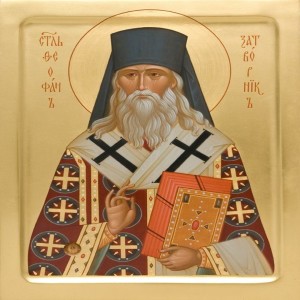 Wow!  What a wonderful and spirited discussion tonight!  We certainly approached some topics - both personal and cultural - that were weighty and deserving of extra time and attention.  Thank you all for you great questions and comments as always!
Synopsis:
Tonight we continued with Letter 69 on depression and fear. 
Theophan's focus, however, shifts to speaking about things that could possibly draw Anastasia away from the fullness of the faith, make her question her practice of the faith, or the path that she has been set upon. 
An old friendship had been broken off. Yet Theophan would not have her try to preserve the relationship at the cost of something greater. Certain relationships falter over time or become toxic. Anastasia should simply be at peace and act charitably towards this past friend, but not seek to immerse herself once again in a relationship that could not bear good fruit. 
Likewise, Theophan then began to express his concerns about someone who saw himself as an apostle; one who was evangelical in spirit and who had inserted himself into the Russian culture proclaiming a gospel and a faith of his own; creating something that was disconnected from the lived reality of the Church. For similar reasons, then, Theophan would have her avoid this man at all costs. She had the fullness of the faith as well as the participation in the Holy Mysteries. She should not substitute this for the particular charisms of a single man. Throughout the centuries the church has been attacked by various heresies and she must see her personal spiritual struggle in light of that broader context.
---
00:07:29 FrDavid Abernethy, CO: Starting on page 270 with "That you broke off"
00:11:29 Lyle: Hope everyone had a good week.  I'll be right back.  A stray dog showed up.
00:54:28 Eric Williams: Regarding Christians of separated and deficient sects, perhaps these lines from St John's gospel apply: "And I have other sheep, that are not of this fold; I must bring them also, and they will heed my voice. So there shall be one flock, one shepherd."
01:03:13 Ann Grimak: I am very agree Father
01:15:24 Wayne Mackenzie: gotta go
01:17:46 Ann Grimak: Love is not emotional,love is very deep
01:20:20 renwitter: Also, just want to put out there, for anyone who has not heard of him or read him: If there is interest in reading something that witnesses to, as Father says, a great integration of life in the spirit, as understood in recent times, and faithfulness to the Church, check out Raniero Cantalamessa. He is quite extraordinary, and has been the Preacher to the Papal Household chosen personally by Saint John Paul II, Benedict XVI and Pope Francis. My favorites of his are St. Francis and the Cross, Virginity (not really about virginity, per se, but rather the celibate vocations), and, most relevant to this discussion, Sober Intoxication of the Spirit.
01:21:50 Lyle: Thanks, Ren.
01:23:06 Rachel: Wonderful class! Thank you, God bless everyone. 🙏
01:23:11 Eric Williams: I'll second that recommendation. I haven't read those particular books, but the ones I have read have been superb - and short!
01:24:43 Anthony: Msgr. Knox has a good criticism on Enthusiastic movements.  The podcast "Paleocrat Diaries" recently conducted a survey of the book.
01:27:13 renwitter: The full text of the verse:
Though with a scornful wonder 
Men see her sore oppressed, 
Yet saints their watch are keeping; 
Their cry goes up, "How long?" 
And soon the night of weeping 
Shall be the morn of song.
01:28:10 Anthony: Protestantism by nature lacks the standpoint to determine with authority what is heresy; by nature, then, it must, to be consistent, tolerate heresy among itself.
01:44:39 George: a lot of the problems of sectarianism, charismatics, etc which have been discussed tonight could be easily resolved with a greater exercise of the incensive power. far too many profane thoughts, preliminary judgements, ecstatic emotions. it's like a shipwrecked body being dragged down a craggy ravine. the notion of the incensive power is one of the Eastern Church's greatest gifts.
01:45:49 Anthony: St. Theophan's concern regarding the English sectarian reminds me of the great damage to persons' faith done by "Family Radio" for years. That kind of potential damage must be cut off.
01:45:55 Andreea and Anthony: The book from which I read the quotes of the Second Vatican Council, Blessed Pope Paul VI, Pope St. John Paul II, and Pope Benedict XVI is "Lord Renew Your Wonders: Spiritual Gifts for Today" by Damian Stayne, the founder of the Catholic community Cor et Lumen Christi recognized by the Vatican.
01:46:38 Ann Grimak: Thank you 🙏 Father
Comments
(1)
To leave or reply to comments, please download free Podbean or