Monday Nov 29, 2021
Letters of Spiritual Direction to a Young Soul - Letter Sixty-Nine, Part III and Letter Seventy, Part I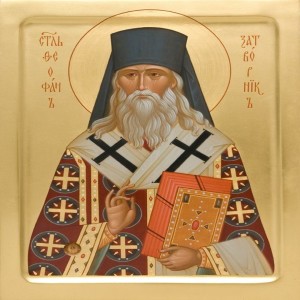 How I cherish these opportunities to read St. Theophan and to share in the rich of the discussion and joy of the members of the group.  St. Theophan clearly loves his directee, Anastasia, and this transmits  to her and all of us what it is to be in love with Christ and to subordinate all things to Him. Theophan is a true elder if there ever was one!
Synopsis:
Tonight we concluded Letter 69 with St. Theophan's discussion of an evangelical preacher that Anastasia had encountered. Again, he warns her to be discriminating in giving this individual any attention. Despite his stressing the importance of the Holy Spirit, which is indeed true, everything else this man says reveals that he knows absolutely nothing about the Spirit or how the Spirit is received. He lacks a sense of the importance of the experience of God, especially in and through the sacramental life. It is through the holy mysteries that God draws us into his life and enlivens us with his Spirit. To lack these realities, failing to participate in them, is to lack that which is essential.  
In letter 70, Theophan continues to discuss with Anastasia the importance of discrimination in regards to reading spiritual books and secular books. He begins with two examples - Saint Anthony the Great and  Saint Seraphim of Sarov. Neither man was well educated in worldly terms but each had a deep experiential knowledge of God. Pursuing only worldly knowledge, Theophan warns Anastasia, can be detrimental. If it pushes out the life of faith and the primacy of the spiritual life, then it is to be removed for it as a threat to our very salvation. If we are "backwards" in the ways of the world what does that matter to us so long as we have Christ?  If we lack many things in this world, including worldly knowledge, but have Christ - we lack nothing!
---
Text of chat during the group:
00:09:25 Ashley Kaschl: I have to go 😭 please let me in if I can come back 😂🙏
00:09:34 FrDavid Abernethy, CO: will do!
00:11:10 Anthony: You could make an Old Believer oil lamp.
00:45:07 Anthony: Be backwards.  This is like the great satisfaction craftsmen feel, like in my Blacksmith Guild.  There is something both backwards and deeply fulfilling in the tradition.
00:47:42 Lilly (Canada): Thank you @Ren :)
00:53:41 Anthony: Seeing no sense in religious life was part of the heresy of "Josephism" in the 1700s/1800s. and I think in Jansenism.
00:55:50 Rachel Pineda: That's a much kinder take on .. "but what do you do?' than I had..lol
01:01:36 Anthony: St Francis Xavier
01:04:07 renwitter: Thats just the tuition for a year, not room and board
01:04:31 Fr. Miron Kerul-Kmec Jr.: 😱
01:11:11 Anthony: Talk show host Michael Savage embodied this struggle with Cynicism, and reality.
01:11:38 Eric Williams: An ironic quote from an atheist: 
"Whoever fights monsters should see to it that in the process he does not become a monster. And if you gaze long enough into an abyss, the abyss will gaze back into you."
01:19:33 Eric Williams: Church as NGO. Ugh.
01:20:28 George: God bless. Happy Thanksgiving, everybody.✌️
01:20:37 Lilly (Canada): Thank you Father
01:20:43 Rachel Pineda: lol
01:20:58 Rachel Pineda: Thank you Father and everyone!
01:21:08 Rachel Pineda: God bless and Happy Thanksgiving.
01:21:09 Ann Grimak: Thank you 🙏 Father
01:21:13 Eric Williams: We're all gluttons! Get thee to confession! ;)
01:22:21 Anthony: Thank you!
01:23:01 sue and mark: God bless you Father.  Will pray for all