Thursday Oct 28, 2021
Letters of Spiritual Direction to a Young Soul - Letter Sixty-Seven, Part II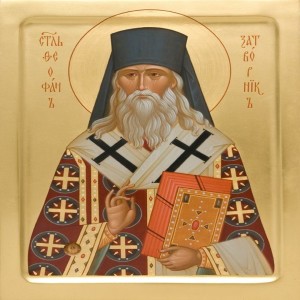 Tonight we concluded Letter 67. As we have seen in previous letters and as Theophan progresses in his teaching of Anastasia, he draws her ever deeper into the wisdom of the fathers. He picks up this evening speaking with her again about the importance of confessing all of one's sins; not judging those that seem small or great but rather confessing everything that is contrary to the will and the love of God. No sin is ever to be deliberately omitted. If omitted - in essence it is unresolved. If ignored it will not be fully uprooted. 
Theophan then moves on  to address the importance of unceasing prayer. This little prayer that he taught her, the Jesus Prayer, he tells Anastasia, is a great treasure. In fact, it has no equal among spiritual activities. This is an extraordinary statement. He is telling Anastasia that the constant remembrance of God is not simply a spiritual practice or a discipline; it is seeking to "become" prayer. It is to live and move and breathe as one who seeks to and truly lives in constant communion with God. It is so important, he tells her, that she must exclude herself from any of the group who may be inattentive. She must never forget to turn the mind's eye to the Lord or at least maintain the feeling that He is near. Turning mentally to God with reverence in the heart is already prayer. Whatever our struggles might be, whatever temptations we might experience against this practice, we must understand that God sees the desire and love within the heart. 
Furthermore, we must start the morning in the right way for it will set the tone for the entire day. We must read the gospel and other spiritual books the confirm ideas within us about what is truly worthwhile. Above all we must hear the voice of conscience; the voice of the omnipresent God in the soul. Theophan writes: "He who is in the world with the conscience is also in the world with God."
---
Text of chat during the group:
00:08:21 Ashley Kaschl: I'm not on video right now cause I'm jump-starting my car 😂 but hey everybody!
00:23:23 sue and mark: pg 155 speaks of thoedoras toll-houses.
00:26:01 carolnypaver: Page #?
00:33:52 Joseph Muir: For in this tent we groan, longing to be clothed with our heavenly dwelling— if indeed, when we have taken it off we will not be found naked. For while we are still in this tent, we groan under our burden, because we wish not to be unclothed but to be further clothed, so that what is mortal may be swallowed up by life. He who has prepared us for this very thing is God, who has given us the Spirit as a guarantee.
00:35:13 Joseph Muir: On this subject, here is a beautiful prayer that is part of my morning offering, and which I try to pray at least once more throughout the day:
O Lord, I know not what to ask of You. You alone know what are my true needs. You love me more than I myself know how to love. Help me to see my real needs which are concealed from me. I dare not ask either cross or consolation. I can only wait on You. My heart is open to You. Visit and help me for Your great mercy's sake. Strike me and heal me. Cast me down and raise me up. I worship in silence Your holy will and Your unsearchable ways. I offer myself as a sacrifice to You. I have no desire other than to fulfill Your will. Teach me how to pray. Do You Yourself pray in me. Amen.
00:44:25 Lyle: No one practicing the "Jesus Prayer" succeeds immediately.  It must be "practiced".  The demons are constantly vying for EVERY thought.
00:45:45 carolnypaver: Very true, Lyle.
01:06:21 Lyle: Some critics of the "Jesus Prayer" say that it is no more than a mantra - (a word or sound repeated to aid concentration in meditation, such as within Buddhism or Hinduism.)  Hundreds of years and THOUSANDS of testimonies prove the Prayer to be helpful.
01:07:21 sue and mark: what about the rosary and divine mercy
01:12:06 Joseph Muir: That is a common criticism from many Protestants, accusing it of being "vain repetition".
Growing up in the Bible Belt, I had to learn how to explain the faith in a way that spoke to where a common evangelical mindset may be. With that said, I was quick to tell them that Christ didn't condemn repetition itself, but specifically VAIN repetition, with Christ even further describing it as being "like the heathens do".
For "the heathens" of their day, the more one repeated a prayer, the better chance there was of God hearing it.
When it comes to something like the Jesus Prayer, the point of the repetition is transform ones entire mind and heart into prayer itself, teaching oneself to pray it with each breath, even, for some of the monastics, with each heartbeat (hence it's commonly being called "the prayer of the heart")
01:12:06 sue and mark: as aides to continual prayer
01:19:19 Lyle: The Omnipresent Voice worked for THEM and it will work for US.  (There is nothing new under the sun.)
01:20:37 Ashley Kaschl: Thank you, Father!
01:20:48 Rachel: Thank you!