Thursday May 14, 2020
Letters of Spiritual Direction to a Young Soul - Letter Thirteen Part II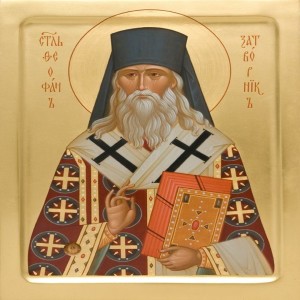 As we know St. Theophan is writing to Anastasia on the feast of her patron, on her name day. He continues by wishing her well; wishing her health and happiness in this world. But, in his love for her, he wants her to understand that life goes beyond the grave, and that what endures is the love of God and the life of virtue. 
It is God and the spiritual life that must be at the center of our existence. All that we do, all that we say, all that we think, is freighted with destiny; because all of these things are opportunities to love and to give ourselves to God. 
Having been formed so well in her early life Anastasia must seek to guard and protect what is most precious - the life that God has given her and the virtue that his grace has brought to life. She must understand, as we all do, that God sees all things, as do his saints and angels. We must never think that anything is hidden from the God who loves us and knows every hair on our head. 
Finally we see in this short section the tenderness of St. Theophan. He offers her not simply cold direction but a fatherly love; desiring her to have the best of things – the eternal love of God. 
Chat transcript from the group:
00:48:02 Fr. John (Ivan) Chirovsky: Tenderness and spiritual sweetness: I don't know Russian but in Ukrainian, candy is called tsukorky from the word tsukor - sugar. And all candies and desserts fall under the category of solodoshchee - sweet things.

00:53:40 Fr. John (Ivan) Chirovsky: I believe that St John Chrysostom (+407) may have been the first one to coin the phrase that the Church is a hospital.

01:00:03 Joe and Larissa Tristano: Father, would you also think that the raiment is with regard to the putting on of Christ in baptism?

01:11:57 Edward Kleinguetl: Romans 7

01:13:51 Michael Liccione: "subject to futility" Romans 8:20

01:19:45 Adrienne DiCicco: Couldn't agree more re: Catholic schools!! -Phil DiCicco

01:23:52 Joe and Larissa Tristano: "Pray as you can, not as you think you must" & "Have a keepable rule of prayer" Fr. Thomas Hopko

01:25:55 Fr. John (Ivan) Chirovsky: Most of us are used to speaking of body and soul. St Theophan presumed a tripartite understanding (aka trichotomy) of the human being: body, soul and spirit. If anyone is interested in discerning this a little more, please see: https://en.wikipedia.org/wiki/Tripartite_(theology)

01:26:41 Edward Kleinguetl: As St. Ignatius Brianchaninov advised, "Choose a rule for yourself in accordance within your own strength." A Rule of Prayer consists of practices to follow daily, such as morning and evening prayer, time for contemplation, liturgy; the rule may identify the time of day for these practices. The purpose of the rule is to help a person grow spiritually. Accordingly, it should not be so burdensome that it is difficult to complete on a daily basis. Nor should it become a heroic effort that later becomes a source of pride that is used to criticize others who may have a lesser rule.

01:26:51 Eric Ash: In some ways I think St. Theophan's ether illustration is more natural to our 21st century imagination than it was to explain in the 19th. The Saint's and Angels can see the whole Earth from Heaven and focus their gaze not just on our earthly bodies but the state of our souls. If he was writing today he might rather compare it that infrared googles can see through the dark and focus on heat, or x-rays see through body to focus on bone. Heavens gaze permeates all, but focuses more on our eternal souls than frail bodies.