Thursday May 21, 2020
Letters of Spiritual Direction to a Young Soul - Letter Thirteen Part III and Letter Fourteen Part I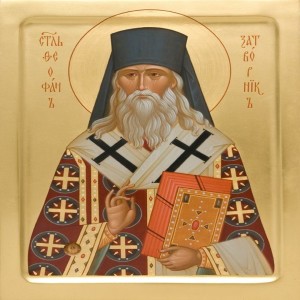 We continued this evening reading letter 13 to the young Anastasia. Theophan again wants her to understand that we do not live our faith out in isolation, but rather in a radical communion with God and with the angels and Saints. Beyond that he wants her to understand that nothing is hidden from the eyes of God or from the eyes of the saints and angels. Our souls take on the quality of the facts of our life. Virtue and love bring brightness to the soul whereas sin brings murkiness or complete darkness. Theophan tells her this not to frighten her but rather that she might understand her true dignity in Christ. By virtue of her baptism she is an heir to the kingdom of heaven and has access to the treasure of God's grace. It is this reality that is bestowed upon her by virtue of her baptism and it is this reality that must come to bear fruit in her life through seeking God at every moment; seeking above all to embrace his will.  Theophan would seek to free us all from what the Fathers call prelest or spiritual delusion. We have an enormous capacity to lie to ourselves and to seek to protect our own sense of dignity and self-esteem independent from God. We must overcome this illusion by humility - by understanding that we are known in truth and seen with the eyes of love eternal.
-------
Chat texts from the group:
01:08:51 Fr. John (Ivan) Chirovsky: The term "prelest" is an Old Church Slavonic word (Greek: πλάνη - plani) which has come into English usage for lack of a precise equivalent, although it is often translated as "spiritual delusion," "spiritual deception" or "illusion," accepting a delusion for reality in contrast to spiritual vigilance and sobriety. Prelest carries a connotation of allurement in the sense that the serpent beguiled Eve by means of the forbidden fruit. Apart from its spiritual context, the word in Old Church Slavonic is often used in a positive sense of something charming, "lovely"; hence, in modern Russian it means: "Beauty". People often struggle to understand what "prelest" is and how one would know if this is a problem in their life? What to do about it? That's the whole point – one doesn't know. But the Church teaches us practical measures to ward off this state. First, there's having a good priest/confessor/spiritual director. Second, we practice the virtues: humility, etc.

01:09:23 Fr. John (Ivan) Chirovsky: Third, we practice attentiveness to our own thoughts and feelings that offer temptation, which is called being neptic (sober and vigilant) or practicing nepsis (sobriety, vigilance). We are warned to beware of people who are very keen on directing or teaching others spiritually, as if they consider themselves to be experts. We avoid speaking or acting im-pul¬sively. We stay away from any desires, thoughts or feelings that make us agitated. We are to be¬ware of substituting dog¬ma¬tic certitudes in place of practicing the faith (for example: knowing all about a service or a custom, but never actually participating in it or allowing that participation to challenge our core to repentance: changing our desires, thoughts and be¬ha¬viors to bring them into line with God's knowledge). We are strongly fore¬warned to be¬ware of anyone who claims to be humble and to beware of the sin of pride, as if thinking that we have found the truth while others around us have yet to arrive at what is called "our level".

01:09:57 Fr. John (Ivan) Chirovsky: Con¬verse¬ly, we are not to think that we are so bad a sinner that we are beyond forgiveness. The story is often told about a young convert who was so agitated about everyone else being in a state of prelest that it was he himself who became so obnoxious, overbearing, and neurotic, that he failed to notice that in the process he himself had become a liar, cheat and manipulator. So our Byzantine spiritual tradition tells us not to worry if someone else strikes us as being off track. Focusing on the sins of others is a surefire way of succumbing to prelest-self-delusion ourselves.
----
Link to download the "cheat sheet" for understanding St. Theophan's anthropology in Letters 5-11