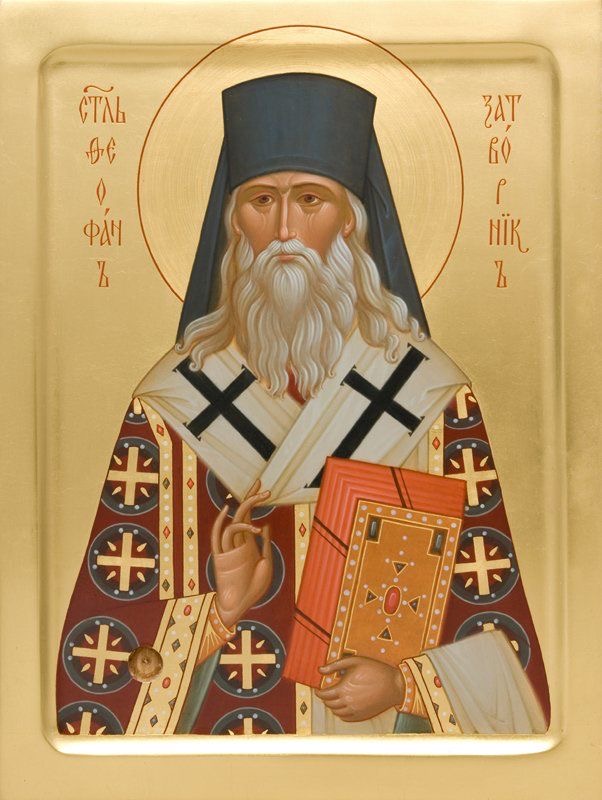 Tonight we read the 21st letter of the Saint to the young Anastasia. In many ways this is the most touching and beautiful of letters and yet also the most simple in its content. St. Theophan lays out for Anastasia the path that God has opened for us to reunion. He want her to understand that everything has already been set before us. We do not, and must not, seek to fashion a path for ourselves or devise a plan of our own hands. It is His yoke and burden that we must take upon ourselves because it alone is perfectly fit to lift us up and heal us. God has given us all. Better yet, He has given us everything – the perfect love of His only begotten Son and the gift of His own Spirit. We are given something far greater than the original innocence of Adam and Eve. We are given a share in the very life of God and all that He asks is that we receive it with humility and gratitude. Our responsibility is simply to embrace His will and providence and to remove any obstacles that may be an impediment to the work of this grace in our lives. If one were to sum up this letter it would be "All is Grace" - grace that must be received with a childlike faith.
-----
Text of chat during the group
Fr. John (Ivan) Chirovsky: regarding eastern Christian use of the word "passion". In 375 AD, Archdeacon Evagrius of Pontus (c. 346-399) developed a comprehensive list of eight evil assaulting "thoughts" (Greek: logismoi).  Through the centuries this was systematized in the East by various saints, mostly St. Maximos the Confessor (590-662).  The assaulting  "thoughts" act on and overcome people, becoming habits or compulsions of thinking, feeling-willing, and desiring over which we end up having little or no control.  At this point, the "thoughts" are said to have become "passions" (Greek: pathеа).  A "passion" (from pathos in Greek) is any deadly obsession that seems to be beyond our ability to control, let alone to recognize, in ourselves.  Thus, a passion is any spiritual "cancer", or "death-bearing" and "soul-corrupting" sin.  The Greek word "pathos" can also mean - and be translated as - "suffering, desire, energy, zealous activity, craving", depending on its context.

Fr. John (Ivan) Chirovsky: In the East, the passions are a distortion, deprivation or misdirection of the intellective, appetitive and incensive powers of the soul.  See Tables at: http://ocampr.org/wp-content/uploads/2011/03/the-christian-ascetic-tradition-on-dejection-and-despondency-david-holden-2004.pdf.  The "passions" enslave us and thereby are the chief cause of our sufferings.  In liberating us from sin and the effects of sin, our Lord delivers us from our passions as well as the pain which they cause. 

Fr. John (Ivan) Chirovsky: St. Gregory the Dialogist (Pope of Rome from 590-604) would revise Evagrius' list to form what, in the West, is today more commonly known as "the Seven Deadly Vices", or Sins.  [Also in the West, the current edition of the Catechism of the Catholic Church, for example §1767, uses the word "passion" to indicate something that is morally neutral, merely a strong feeling or emotion, and thus not sinful - unlike the way that the word "passion" is used in the East.]  Those Eastern Church Fathers, whose works were written between the 4th and 15th centuries and collected and published in the Philokalia-Добротолюбіє, list "by name a total of 248 passions and 228 virtues" (see English language edition, page 205, Volume 3).
Fr. John (Ivan) Chirovsky: St. John "of the Ladder" (Climacus, 579-649) was of the opinion that although the passions (пристрасті) were not directly created by God, they are still naturally good, except for akedia-listlessness, despondency.  In Step 26, 156, of his Ladder of Divine Ascent, he writes: "Nature gives us the seed for childbearing, but we have perverted this into fornication.  Nature provides us with the means of showing anger against the serpent, but we have used this against our neighbour.  Na¬ture inspires us with zeal to make us compete for the virtues, but we compete in evil.  It is natural for the soul to desire glory, but the glory on high.  It is natural to be over¬bearing, but against the demons.  Joy is also natural to us, but a joy on account of the Lord and the welfare of our neighbour.  Nature has also given us resentment, but to be used against the enemies of the soul.  We have received a desire for food, but not for profligacy."  

Fr. John (Ivan) Chirovsky: It is when we use our free will to misdirect the passions from the good towards the evil, that we allow the passions to gain control over us.  This, in turn, is how the thieves, or demons, are empowered by us to rob us of eternal life.  A helpful passage on this latter point regarding what demons do, is to be found in the homily at: https://www.holycross-hermitage.com/blogs/articles-sermons/sermon-for-the-sunday-of-st-john-climacus-2017