Thursday Mar 16, 2017
The Ascetical Homilies of Saint Isaac the Syrian - End of Homily Four and Homily Five Part I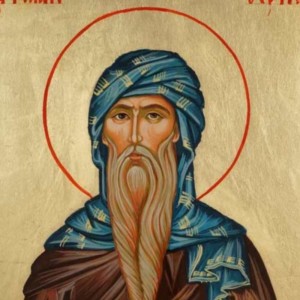 In the final paragraph of Homily Four, St. Isaac exhorts us to die to all things and the doings of the world that give rise to the passions.  He acknowledges that there is a a kind of madness to this as seen from a worldly perspective and that reality gets turned on its head.  But it is only when we trust to the Lord by embracing this path fully that we will experience the sweetness of spiritual inebriation.  Though difficult, he encourages us not to lose hope for the mere movement of toward God and the mere expression of desire for holiness brings with it a flood of grace and mercy.
Homily Five begins by reminding us that we have received all that we need through the revelation of nature and the scriptures to guide and direct us in the spiritual life; especially the reality of our own mortality.  Death gives rise to the question of the meaning of our lives and what path we are going to pursue.  We cannot, however, approach these realities and think that we can stand still or refrain from offering any response.  "Whoever does not voluntarily withdraw himself from the passions is involuntarily drawn away by sin."  There is no static position for us as human beings.  We must withdraw from the causes of the passions and set ourselves toward the good; realizing that God honors not wealth but rather poverty of spirit, not pride but humility.
In the spiritual battle, we must engage "manfully", that is, with courage.  We must not doubt God is our Helper in the good work otherwise we will be scared of our own shadow.  If we hope in Him, however, we will experience Him as one who manages our "household", that is, our heart and sends His angels to strengthen and encourage us.
Never hold any sin to be slight.  To love God is to hate evil and our sin, no matter how grave or small in our eyes. And having made any strides in the spiritual life, it must be seen as mere fidelity and obedience to what is commanded of us.  Pride must have no place within us.
Sin must be fought and healed with the right remedies.  Lack of chastity cannot be healed by giving great alms and fasting does not overcome avarice.  In place of the loss of sanctity God requires sanctification.  Lack of chastity must be restored to purity.