Tuesday Apr 20, 2021
The Evergetinos - Vol. I, Hypothesis I, Part X and Hypothesis II, Part I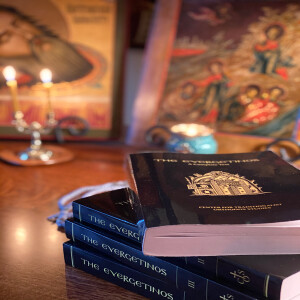 Tonight we concluded Hypothesis I with a story of a bishop who fell into grave sin and scandal. Broken in spirit, he embraces a life of repentance in a monastery, while also seeking to hide his the dignity of his office. However, God reveals to the Abbot of the monastery that the bishop is coming to him. The  abbot recognizes him and tells him that he will follow him wherever he goes to reveal that he is a bishop. The abbot does this not with a morbid delight but rather that the bishop might be fully healed. The very scandal of having fallen from such a lofty position as bishop into grave sin must not be something that he hides.  The fullness of healing can only take place when the fullness of the sin is exposed. He who humbles himself will be exalted. Humbling himself completely, the bishop will not regain the dignity of his office but rather regain something greater - his dignity as a son of God. Again, we see that such repentance is not embraced in isolation from others. The fruit of the bishop's repentance and its perfection is passed on to others after he dies. Many miracles surrounded his death demonstrating to all the genuineness and the sincerity of us repentance.
Turning then to Hypothesis II, we began considering the importance of keeping before our minds the reality of death. We must do good here and now and not delay until the future. This is not meant to instill fear in the hearts of men but rather to liberate them from the illusion that our life in this world is endless or that we are guaranteed a tomorrow. Grace is to be embraced in the moment. God is to be embraced in the moment. To do so is to experience freedom from the fear and anxiety that so often holds the human heart and in its grip.
---
Text of chat during the group:
00:11:53 Tyler JVW: Holy Transfiguration Monastery has a wonderful Psalter
00:39:02 Eric Williams: I never felt invincible. I was a very odd child. ;)
00:40:14 Joseph Muir: You're a very odd adult, Eric😉😂
00:42:27 Lilly Vasconcelos: Be nice to Eric, Mr. Muir😂
00:43:40 Lilly Vasconcelos: Yes I feel the same Father🙂
00:45:52 Lilly Vasconcelos: Humans were not made for long periods of solitude, there is so many negative pschological effects if one doesn't have God as the centre of their lives
00:48:52 Tyler JVW: The definite spiritual high after any retreat or catechetical talk in some experiences.
00:52:59 Lilly Vasconcelos: Praying the Divine Office throughout the day helps me feel like Jesus shares my day with me, so that at night it's kinda exciting if we might depart to him❤️ I don't know if that helps, Ren💕
00:55:55 Tyler JVW: The whole Passion Week Troparia, "Behold the Bridegroom comes in the middle of the night" comes to mind.
00:57:57 Eric Williams: Sort of like showing up for the heavenly banquet without the proper garment?
00:58:00 renwitter: Don't forget your unblemished white wedding garment bathing suit ;-)
00:58:06 renwitter: Ha! Eric get there before me
01:00:28 Joseph Muir: Behold, the Bridegroom is coming in the middle of the night. Blessed is the servant that He shall find awake. But, the one that He shall find neglectful will not be worthy of Him. Beware, therefore, O my soul! Do not fall into a deep slumber, lest you be delivered to death, and the door of the Kingdom be closed on you. Watch, instead, and cry out: Holy, holy, Holy are You, O our God! Through the Theotokos, have mercy on us!
—from bridegroom matins during Holy Week in the Byzantine churches, both Catholic and Orthodox; and also in the mesonyktikon, the liturgical midnight hour
01:01:20 Joseph Muir: Or they get a passing grade, but only after needlessly inducing a panic attack🤣
01:03:31 Lisa Weidner: In response to Ren's comment on what to do
01:03:36 Joseph Muir: At the risk of spamming these comments, I once broke up with a girl after she told me that she was a diehard fan of the Saw movie franchise
01:03:37 Lilly Vasconcelos: Theotokion from Orthros:
You are truly most blessed, O Virgin Mother of God: through the One who was incarnated of You, Hades was chained, Adam revived, the curse wiped out, Eve set free, Death put to death, and we ourselves were brought back to life...
01:03:50 Tyler JVW: It also reminds me of the Byzantine Prayer before bed time:  O Eternal God, King of every creature, Who hast enabled me to attain to this hour, forgive me the sins which I have committed this day by thought, word and deed. Cleanse my humble soul, O Lord, from every defilement of flesh and spirit. Grant me, O Lord, to pass through the sleep of this night in peace, that I may rise from my humble bed and please Thy most Holy Name all the days of my life, vanquishing the enemies both fleshly and bodiless that contend against me. Deliver me from vain thoughts that defile me, O Lord, and from evil desires. For Thine is the Kingdom, and the power, and the glory: of the Father, and of the Son, and of the Holy Spirit, now and ever and unto ages of ages. Amen.
01:05:39 Lisa Weidner: prior to going to bed, Sister Theresa Althea Noble speaks of a practice of Memento More- remembering one's death as part of one's examination conscience prior to bed- with the gratitude of the day that Fr David mentioned with a review of the day in reference to our judgement with God- how the day would be reflected in that judgement- so living with an awareness of one's death/ judgement prior to God.
01:08:43 Tyler JVW: Prayer before retiring before bed by St, John of Damascus:  Upon retiring, say this prayer: O Master, Lover of mankind, is this bed to be my coffin, or wilt Thou enlighten my wretched soul with another day? Behold, the coffin lieth before me; behold, death confronteth me. I fear, O Lord, Thy judgment and the endless torments, yet I cease not to do evil. My Lord God, I continually anger Thee, and Thy most pure Mother, and all the Heavenly Hosts, and my Holy Guardian Angel. I know, O Lord, that I am unworthy of Thy love for mankind, but am worthy of every condemnation and torment. But, O Lord, whether I will it or not, save me. For to save a righteous man is no great thing, and to have mercy on the pure is nothing wonderful, for they are worthy of Thy mercy. But on me a sinner, show the wonder of Thy mercy; in this reveal Thy love for mankind, lest my wickedness prevail over Thine ineffable goodness and merciful kindness; and order my life as Thou wilt.
01:10:21 Lilly Vasconcelos: Thanks Father! God bless and good night
01:11:21 Nicole: THANK YOU!!