Tuesday Sep 21, 2021
The Evergetinos - Vol. I, Hypothesis IX, Part III and Hypothesis X, Part I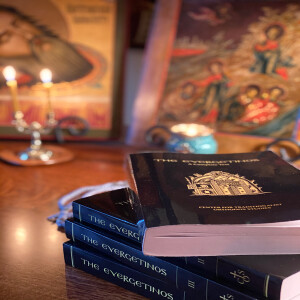 Tonight we concluded a brief section from Hypothesis Nine and began reading Hypothesis Ten. The subject matter of these readings is rather fierce; presenting us over and over again with the experience of death. What is the experience of the soul at the moment of death bearing within it  its vices and virtues alone.? 
We are presented with images and visions of the Saints who describe a malignant evil set upon the demise of those seeking to follow the narrow path that leads to the kingdom. Even at the moment of death the evil one is there to accuse and weigh in the balance individual's vices and virtues. If anything these images stress for us the reality of evil and hostile powers set upon our demise and that the spiritual life and struggle has cosmological scope. 
Such truths remind us of the necessity of constant vigilance in the spiritual warfare. We must desire to the kingdom above all things and seek it with purity of heart and intention. It is this alone that sets us upon the path to the kingdom with a holy boldness even when faced with these hostile powers in their most fearful form.
---
Text of chat during the group:
00:16:50 Ed Kleinguetl: Orthodox theory of the toll houses
00:22:57 Carol Nypaver: Page?
00:23:12 Ashley Kaschl: 84
00:46:37 Rachel (30): Yes, exactly! What a sobering reflection.
01:06:46 Eric Williams: When being chased by a wild beast, one needn't run fastest - just faster than one's companions. ;)
01:07:22 Rachel (30): lol
01:14:21 Tyler Woloshyn: Have a blessed evening folks. I am off to my Ukrainian class. Please pray for Canada during our federal election tonight. God bless! :)
01:15:06 Erick Chastain: will do!
01:15:49 renwitter: "Do we all flap" 😂😂😂😂😂😂
01:16:06 renwitter: Made. My. Night
01:21:48 Rachel (30): thank you
01:21:51 D Fraley: Thanks Father David