Tuesday Jun 29, 2021
The Evergetinos - Vol. I, Hypothesis V Part VII & Hypothesis VI Part I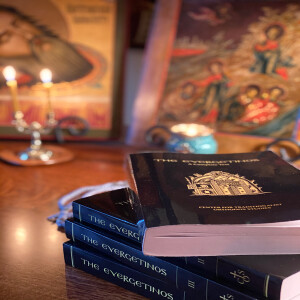 "What will become of me?" Such a simple question but one that clarifies the importance of the moment for us as men and women of faith. Where do we live our lives? What do we seek, what do we love and desire? These simple questions turn out to be the most important for us because in the end they shape our identity and the path that we take.
Moving on to Hypothesis VI, we began to consider the end of that path which is the glory of Heaven and of the Saints. We must foster a longing and develop an appetite now for the Divine. We must have a "nostalgia" for our homeland, remembering in hope the promises of God and understanding that while we are in this world we are also in exile. We are to seek to allow ourselves to be nourished more and more upon the things that foster not only strength of virtue but depth of desire for God.
---
Text of chat during the group:
00:03:46 carolnypaver: Does the baby Miron have a Confirmation name?

00:29:39 Joseph Muir: Put the book title here in the chat, Daniel!!!!!!!

00:30:28 Erick Chastain: Lauris?

00:31:28 Daniel Allen: Laurus. The only thing I have ever read that is similar to it are the works of Dostoyevsky.

00:32:30 Erick Chastain: I have a copy but I haven't read it!

00:37:52 Joseph Muir: I'm a huge Russian literature fan,  Dostoyevsky in particular (I've probably read the Brothers Karamazov 3 times)

00:40:14 renwitter: I am as well Joe! I read Laurus a while back, and have always loved Dostoyevsky, but I have to say that Solzhenitsyn is #1 for me.

00:42:08 Joseph Muir: I've never read anything from Solzhenitsyn, but am more than open to recommendations!

01:02:34 renwitter: Wow. That is amazing Ambrose. Thank you.