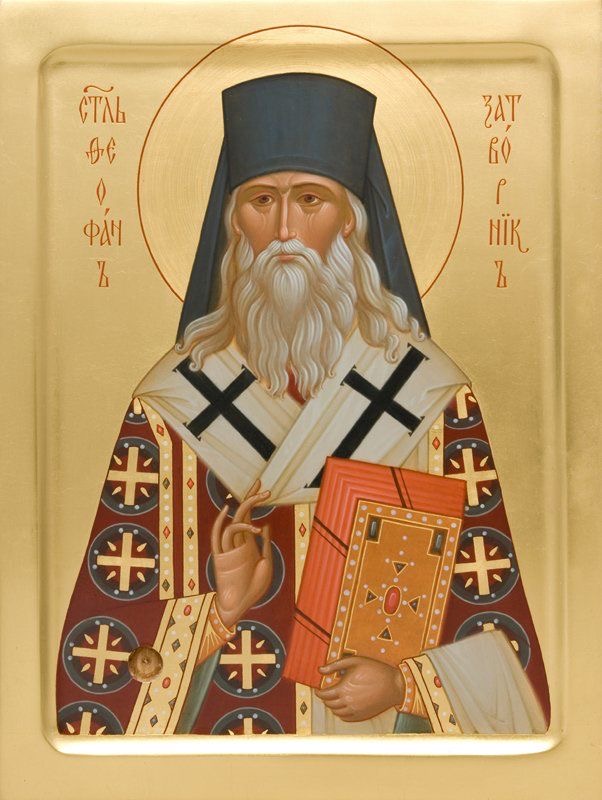 Tonight we picked up with Letter 51, entitled "Turning the burdens of life to spiritual profit". Saint Theophan gives Anastasia some of the best and most practical advice and counsel here. He begins to teach her a method of reinterpreting everything that comes before her eyes in a spiritual sense. She had been struggling, as we often do, with distractions in her day-to-day work and so finding it very difficult to maintain the constant remembrance of God. Therefore, gradually, Theophan teaches her how reinterpret every day activities, extraordinary and ordinary, into a means of actually drawing the mind and the heart to God. Far from being an obstacle, when spiritually reinterpreted they become the most beneficial means of moving the thoughts and imagination toward God.  Theophan tells Anastasia to begin with home and the people that she knows in her every day activities; and then to do it with everything that she sees within the world and every circumstance she encounters. Gradually it will become very natural for her. At the close of the letter, however, he warns her not to spare herself. There's a certain wrongful activity that is afflicts everyone. We spare no labor on any matter except when it comes to that of salvation. This she must remove from her heart. The most important matter is our salvation and consequently it will be the most difficult labor of our life. But it is worth it. 
In Letter 52, Theophan brings Anastasia back once again to the remembrance of God. He knows that he is repeating himself and that she is probably becoming fatigued. Yet he tells her that his repetition is rooted in the fact that this remembrance of God is the most important thing of all and all power is in it. What he explains to her in this letter is that she must do all in her power to warm her heart with ever deeper devotion and reverence for God. It cannot simply be a barren remembrance but that which is guided by the deepest feelings of love and urgency. She must pray and read until she begins to notice this warmth developing within the heart. Only when she sees this happening can she be confident that it will continue to influence her throughout the course of the day. This is what the Lord himself desires: "I came to set fire on the earth of human hearts, and I could not wish for more other than that it inflame everyone as soon as possible!" 
---
Text of chat during the group:
00:29:07 Lilly Crystal: Gracias hermana @Ren

00:30:37 Eric Williams: I am still disappointed and saddened that the Church did not use closed churches as an opportunity to promote the Divine Office. :(

00:30:54 renwitter: De nada mija @Lilly!

00:33:35 Eric Ash: Mother Theresa once said, "the most terrible poverty is loneliness and the feeling of being unloved." And she is someone who saw the ravages of what we traditionally call poverty.

00:35:00 Lilly Crystal: Toronto is back under severe lockdowns. 10 people max at Church. I was turned away from confession yesterday. Please keep us Canadians in your prayers

00:35:42 carolnypaver: Heartbreaking…..We'll keep praying for an end…

00:36:12 Wayne Mackenzie: in Edmonton back in major lockdown 15 people  allowed in church

00:37:12 carolnypaver: *gasp*. And I complained that AAA made me put on a mask today to get some documents notarized.  :(

00:37:24 Lilly Crystal: It's truly heart breaking @Wayne

00:37:55 Eric Williams: Better to pray in the bathroom than to doomscroll through Facebook, right? ;)

00:38:07 Joseph Muir: We have it good here in the States, Carolyn

00:38:16 Joseph Muir: PREACH, Eric!!!!!!

00:38:37 Erick Chastain: it is a canticle

00:39:02 Lilly Crystal: @Eric Me and my chotcki😂 #sorry lol

00:42:37 Nicole's iPhone: Great idea! I'm good at editing :)

00:44:24 Nicole's iPhone: Lilly, I have a priest friend in Marmora and churches are closed, no sacraments at all there
He's on a farm and last year would put the monstrance in the window for people to come visit Our Lord
00:48:00 renwitter: @deacon Miron is practicing rocking for when Baby comes :-)

00:48:54 Miron: practice makes perfect! only five more days till due date! :)

00:49:07 renwitter: Wow! Five days?!? Amazing!

00:49:50 carolnypaver: Awwww——Happy delivery!  God bless Mom, baby, and you, Deacon!

00:50:50 Eric Williams: I like the phrases "spiritual exercises" and "training", because we intuitively understand how necessary training and exercise are for physical health and pursuit of excellence. Sometimes - perhaps often - we must force ourselves to do it. Likewise for spiritual health.

00:51:37 Lilly Crystal: Praying for health and safe delivery @Miron

00:53:37 Miron: Thank you Thank you!!!

00:59:00 Deacon Robert Cripps: Praying for a safe and healthy delivery!

01:05:23 renwitter: All that time in Adoration has @Father David burnin' up

01:06:15 Lilly Crystal: @ren lol

01:14:27 Nicole's iPhone: Thank you!

01:14:38 Lilly Crystal: Gracias Padre